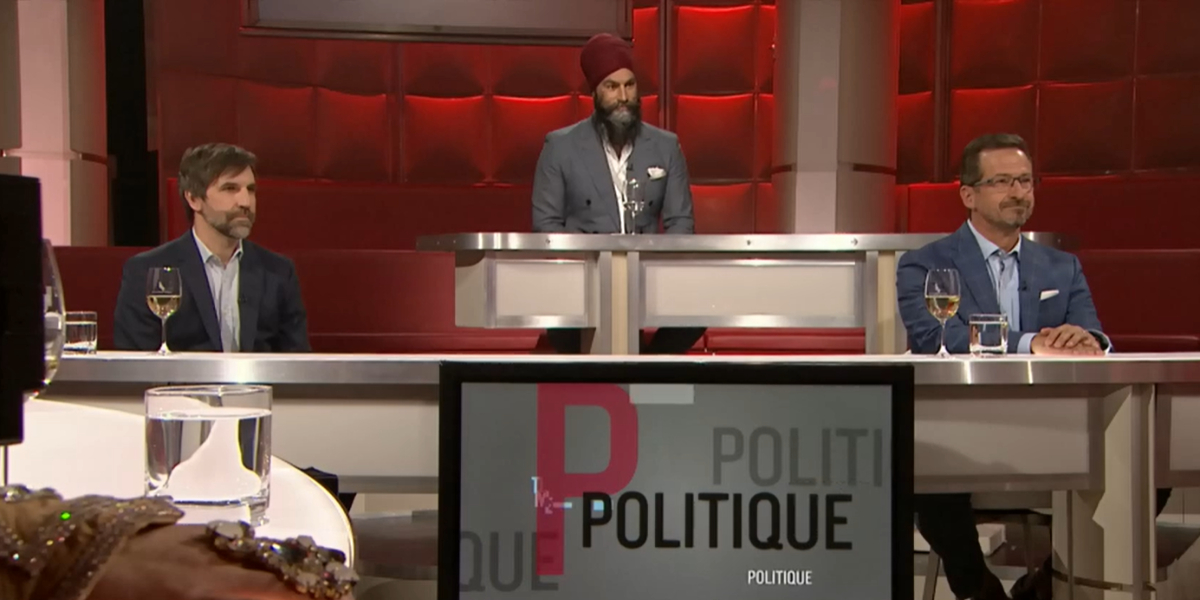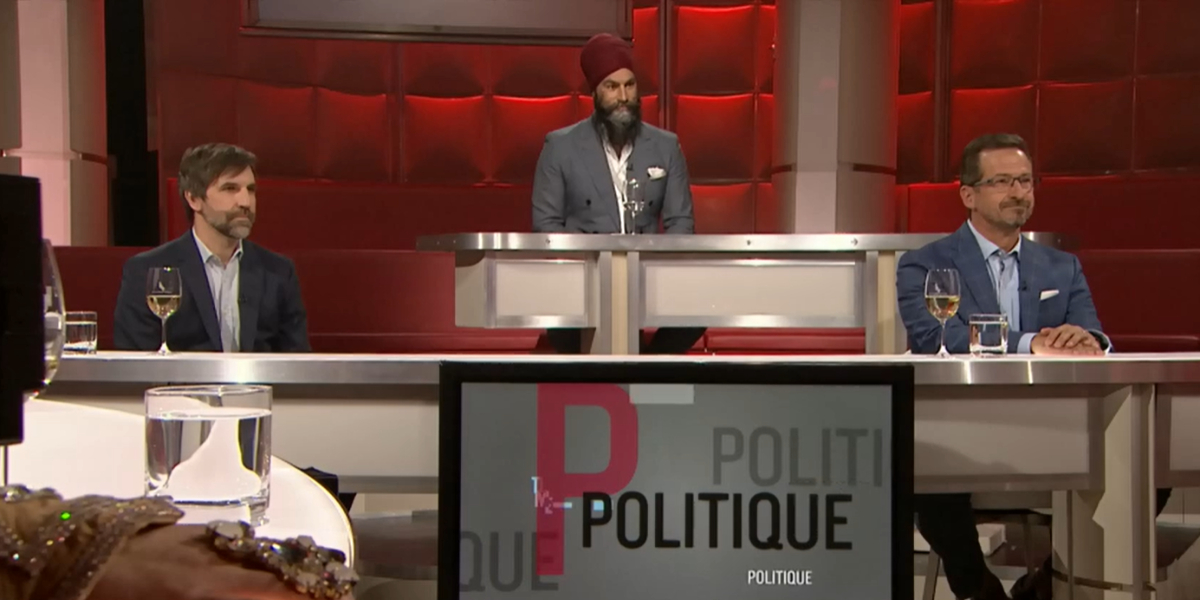 On the set of Tout le monde en parle (TLMEP), Sunday, May 16, Canadian Heritage Minister Steven Guilbeault, NDP leader Jagmeet Singh and Bloc Québécois leader Yves-François Blanchet agree on the need to pass Bill C-10.
FCCF and arts and culture organizations across Canada join forces to prevent the death of Bill C-10
This Friday, May 21st, the Fédération culturelle canadienne-française (FCCF) and several national, provincial and territorial organizations are uniting their voices to save Bill C-10 and avoid it dies on the order paper. A letter, drafted under the aegis of an initiative of national arts and culture collaborators joined by the FCCF, has been sent to MPs and Senators.
The purpose of this letter is manifold : first, it aims to inform the public, both francophone and anglophone, of the impasse in which Bill C-10 finds itself, despite the encouraging exchanges during last Sunday's Tout le monde en parle talk show and the remarks repeated by the Leader of the Bloc Québécois the following day.
Furthermore, this letter aims to remind the public that Bill C-10 is a bill that is crucial to the cultural sovereignty in Canada, but also given its considerable importance for Canadian jobs and for the economy as a whole.
On the other hand, it seeks to put pressure on the institutional players in the House, and more specifically the Conservatives, regarding the need to complete the study of the bill in Committee and to adhere to the motion for time allocation in the House for the third reading. It also mentions the importance of expedited but efficient work in the Senate.
Finally, the letter reiterates the essence of what Professor Trudel said to the Canadian Heritage Committee this week regarding freedom of expression and net neutrality.
This letter is a joint initiative of many arts service organizations in Canada and the Fédération culturelle canadienne-française. It is an initiative that transcends the so-called language barrier that is constantly invoked to explain the difference in perception of the bill between Anglophones and Francophones. It demonstrates the position shared by the arts and culture sector across Canada on the urgent need to adopt Bill C-10.
The letter can be found below, along with the list of signatories who refuse to let a crucial bill for artists in Canada die:

There is renewed hope for the arts and culture sector in Canada

Since April 23, the study on Bill C10, An Act to amend the Broadcasting Act, has been virtually put on hold. With the end of the parliamentary session fast approaching and a possible upcoming call of an election, there is a serious risk that Bill C-10 will die on the Order Paper. The arts and culture sector is particularly concerned about this situation.

But there is hope. On Monday, the day after making the promise live on Tout le monde en parle, the Bloc Québécois declared that « in order to ensure that the protections and the improvements already made to Bill C-10 are not wiped out by the possible call of an upcoming election, the Bloc Québécois proposes to fast-track the bill to allow for its adoption in June, before the end of the parliamentary session. » Minister Guilbeault can count on significant support to carry out the reform of the Canadian broadcasting system. Nothing more was needed to restore resolve to the arts and culture sector in the country, particularly hit by the lingering health crisis.

We are cognizant of the fact that the battle is far from being won. Collaboration and dedication will be required to ensure that work continues towards the eventual adoption of Bill C-10. All parties must rally behind the Bloc's proposed approach.

Furthermore, the misinformation and delay tactics employed by some members of the Conservative Party at the Canadian Heritage Committee are clearly aimed at defeating a bill that is essential to Canadians and has been awaited for over 30 years.

We therefore call for an end of the partisan games and for parliamentarians to work diligently to complete the study of the bill in Committee. Additionally, we call on all parties to agree to a possible allocation of limited time in the House of Commons in order to facilitate efficient debate and thereby a successful passage of Bill C-10.

We also call on the Senate of Canada to work carefully but expeditiously on the bill. We recognize the importance of the role of the senators in applying « sober second thought » to the various bills emanating from the House of Commons. Nevertheless, time is very limited to complete the legislative process of C-10 and therefore the Upper Chamber will have to balance effectiveness and efficiency for the bill to receive Royal Assent in time. The legislative changes in the bill have been anticipated since the 2016 consultations on Canadian Content in a Digital World. The findings of that review are clear: Bill C-10 is needed now.

Not only do countless jobs and the entire cultural and artistic sector depend on it, but also the ability to create, produce, broadcast and be heard in both English and French in Canada. It is important to remember that the arts and culture sector is an important pillar of the Canadian economy: The GDP for culture exceeded $57 billion in 2019, or more than 2.7% of Canadian GDP. This figure decreased to $52.2 billion in 2020, a decline of 9.2%[1].

In terms of jobs, this sector has also been one of the most affected by the pandemic. The number dropped from 667,000 in 2019 to 588,000 in 2020. This represents a decline of 11.9% These figures do not include the precarious situation faced by the more than 158,000 artists[2] in Canada, exacerbated by the reality of the ongoing crisis. Recovery to pre-pandemic levels is not expected until 2023-24.

Bill C-10 is essential for the arts and culture sector and for Canada as a whole; it is vital to the Canadian economy and to the maintenance of Canada's cultural identity and sovereignty.The amendments to the Broadcasting Act will ensure that online broadcasting services operating in Canada contribute to the creation, production and dissemination of Canadian stories. The cultural community has been calling for years for a revised Broadcasting Act to better protect and support creators and ensure the health of Canadian cultural ecosystems.

The bill does not infringe on freedom of expression or net neutrality. It ensures that all companies providing a social media service will be subject to the provisions of the Act when acting as a broadcasting undertaking within the meaning of the Act. Finally, the Bill proposes to include in the broadcasting policy objectives the need to ensure that the works of our creators are « discoverable » in these algo-driven online worlds which, to this day, escape any form of accountability.

Let's put an end to the political games that exploit freedom of expression. The web giants must be regulated in order to protect our canadian cultural sovereignty, and to safeguard jobs in a sector that continues to suffer the full force of the health crisis.

Signatory organizations and individuals

African Canadian Performing Arts Foundation

Association canadienne-française de l'Alberta régionale d'Edmonton

Alberta Partners for Arts and Culture (APAC)

Alliance culturelle de l'Ontario (ACO)

Alliance nationale de l'industrie musicale (ANIM)

Alliance des producteurs francophones du Canada (APFC)

Anne Brochu Lambert

Association acadienne des artistes professionnels du Nouveau-Brunswick (AAAPNB)

Association des francophones de Kamloops

Association des francophones des Kootenays Ouest

Association des groupes en arts visuels francophones (AGAVF)

Association des théâtres francophones du Canada (ATFC)

Association franco-yukonnaise (AFY)

Atlantic Presenters Association

Aurélie Labrière

Bureau des regroupements des artistes visuels de l'Ontario (BRAVO)

Canada Live music association

Canadian Actors' Equity Association

Canadian Federation of Musicians

Canadian Independent Music Association (CIMA)

CAPACOA

Centre culturel francophone de Vancouver

Centre d'arts visuels de l'Alberta

Cercle culturel et historique Hilarion-Cyr

Chantal Cadieux

Coalition de la diversité des expressions culturelles (CDEC)

Conseil culturel et artistique francophone de la Colombie-Britannique

Conseil culturel fransaskois (CCF)

Conseil provincial des sociétés culturelles

Department of Music, University of Alberta

Editions Boutons d'or Acadie

Évelyne Foëx

Fédération culturelle canadienne-française (FCCF)

Front des réalisateurs indépendants du Canada (FRIC)

Galerie d'art Louise-et-Reuben-Cohen

Gisèle L. Ouellette

GroupeJKB

Guillaume Lépine

Guillaume Tardif, Associate Professor, String Area Coordinator

Guyaume Boulianne

Jean-Pierre Caissie

Josée Thibeault, Autrice, metteuse en scène, artiste de la parole

Karine Ricard

La Cité des Rocheuses

La Connexional Inc

La Grande Marée

La Société culturelle de Baie-Sainte-Anne

Laurie Leblanc

Le Grenier musique

Les Éditions La Grande Marée

Louis Pitre, artiste

Louise Poirier, Grande-Digue, NB

Marie Hélène Allain, Artiste

Marjolaine Bourgeois

Matthieu Girard

Mélanie Gagnon, Artiste

Mireille Lavoie-Beaupré, travailleuse culturelle

Monique Léger, Artiste

Music Manager Forum Canada

Music • Musique NB

Nancy Juneau, Consultation Point de Mire

Ontario Presents

Paulette McGraw

Phil Comeau

Pierre-André Doucet – Pianiste et écrivain, Co-directeur Été musical de Barachois

RADARTS inc

Regroupement artistique francophone de l'Alberta

Regroupement des éditeurs franco-canadiens (REFC)

Robert Walsh

Saskatchewan Arts Alliance

Satellite Théâtre

Société Culturelle de la Baie des Chaleurs

Société Culturelle Kent-Nord

Société culturelle Nigawouek

Société de l'Acadie du Nouveau-Brunswick (SANB)

Société Nationale de l'Acadie (SNA)

Sylvie Pilotte, artiste

Sylvie Thériault, Gestionnaire des arts et travailleuse culturelle

The Alliance of Canadian Cinema, Television and Radio Artists

Théâtre de la Vieille 17

Théâtre la Seizième

Toronto Alliance for the Performing Arts (TAPA)

Vidacom Inc.

Visions Ouest Productions

Zoé Fortier
[1] Statistics Canada, National Culture Indicators, Canada, Product perspective, https://www150.statcan.gc.ca/n1/daily-quotidien/210415/dq210415e-eng.htm
[2] Hill Strategies, STATISTICAL INSIGHTS ON THE ARTS, In-depth exploration of Canadian arts data, https://hillstrategies.com/statistical-insights-on-the-arts/